Bio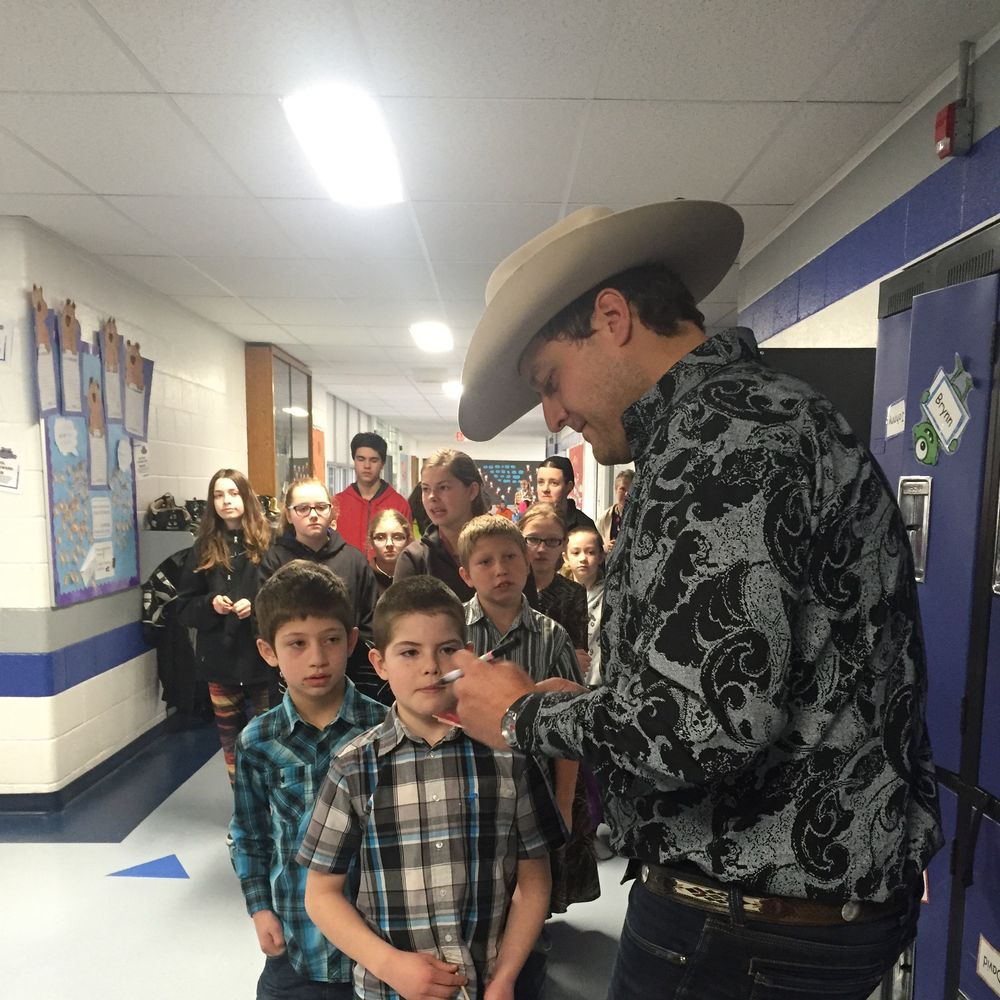 TREVOR PANCZAK
Canada's GENTLE GIANT
There's just something honest, compelling and immediately likeable about Trevor Panczak and his music. With a refreshing authenticity that is increasingly rare to find, the Alberta-based, award winning country recording entertainer writes, interprets and records songs that speak to one's heart in a way that is simple, soulful and with an appeal to a broad array of music fans.
Whether singing original compositions or those of other writers, Trevor is able to take ownership of the song; his vocal performance grabbing hold of the listener's attention, evoking memories and emotions born out of a life that has seen its tragedies and triumphs. He has developed the remarkable ability to connect not only with an audience but with a song and translate his own personal connection to engage listeners.
Trevor, a 6' 5" gentle giant, who gains friends and supporters easily because of his recognizable sincerity,  has also had fruition at radio with two top 50 hits from his full length album Where I Go to Come Back. The popular and critically acclaimed singles Cheap Shades, and the upbeat and affectionate For a Girl. Both represent Trevor's affinity for material that is simple, but not simplistic – songs that are laden with the sort of sentimental imagery that makes any listener smile with a sense of familiarity and recognition. "I love songs that are about real people, real situations, and real feelings. There's nothing fancy or artificial about my music and I don't believe in the genre lines so much. There is really only two kinds of music, good or bad. I like to write and interpret songs that the regular everyday person can identify with.
Panczak grew up in a supportive home where music was played, appreciated and became the soundtrack of the entire family's life on the farm. "I was exposed to EVERYTHING country including Hank Williams Jr. and Sr, Don Williams, Jerry Reed, Randy Travis Merle Haggard, George Strait, Alan Jackson, Clint Black and Dan Seals. I also loved listening to artists like Elvis, Englebert,  ABBA and The Beatles. There are too many to mention but whatever my dad liked, I liked and it grew from there. One of my first memories as a kid, I remember sitting and listening to the American Country Countdown on the radio sitting in the cab of the pick-up truck and just getting lost in the music. My dad would send me on an errand to get a wrench or something and I would totally forget to go back to him because I was so captivated by the songs. I remember draining the battery in the sprayer truck on the farm, listening to the Smokey and the Bandit soundtrack over and over again," he said. "My grandmother bought me a tape recorder -- one of those old-school ones where you plugged in a little microphone. As a little kid I would sing the hit songs of the day into that. So that's where it really started."
His parents tried to convince Trevor to play the piano but his precocious attention was more fixed on the old guitar his Dad had perched in his den. After showing young Trevor a few chords and admiring his son's dedication, his father, Johnny, spurred by his Grandma Lola, worked to promote his son's passion, creating shows and booking him to play at various fundraisers around the community, to the point where he soon became a household name in Lethbridge and the surrounding area.
"Dad putting me out on stages just me and my guitar, is where I learned how to interact with a crowd. So my dad and grandmother were really instrumental in my career path. They both really went to bat for me" he said. Sadly, Johnny Panczak died in 2003 after a courageous battle against cancer. It was the second life-changing tragedy in his young life. Six years earlier, older brother Richard was killed by a drunk driver when he was just 30.
The passion, dedication and sense of mission that Panczak has for his life and career is, in large part, a tribute to these two pivotal figures in his life, whose own lives were cut down well before their time. "Those experiences have made me want to live life to the fullest. I've learned that you have to take advantage of every opportunity you have and work hard. There's not a lot of time for us on this earth. It's helped keep me grounded and given me a more appreciative perspective on my music career. People say, 'wouldn't it be great to get to the top of the charts and be a big star?' Ya for sure but for me, it's really about the journey. Although it would be a great feat and that is what I set out to achieve, it's not just about getting to the top. Its taking the time to be present, in the moment, helping others and be excited about where you are right now. It's about working towards something, with those that support you, to make an impact on your community." 
Besides his commitment to his craft as a musician, songwriter and performer, Trevor continues to be committed to using his talent to give back to various charitable causes and has helped raise about $500,000.00 over the past 5 years. Even when he was struggling to make a name for himself as a younger artist, he would donate $1 from the $5 EP he sold to Ronald McDonald House and gave countless hours of his time to perform at various community events. His dedication earned him the People's Choice Award from the Lethbridge Chamber of Commerce and the Alberta Centennial Medal of Honour for Excellence in Community. Panczak said the values of community, co-operation and selflessness he learned from his Dad and grandparents will never abate no matter how successful he becomes as a country music star.
Trevor Panczak has sold over 25,000 records and continues to write and record music, all the while becoming an in-demand performer throughout Western Canada, the Northern States and beyond. "I believe what I do is take the best elements of the older era of country music, where it was more grounded, more honest and more connected to real life, and combine it with a modern, melodic flair, sensibility and sound."
In recent years, his reputation for superior showmanship and sheer entertainment value has earned him Headline spots on festival and theatre stages as well as opening slots for the likes of legendary country acts such as Zac Brown Band, Michelle Wright, Miss Patti Page, Dan Seals, Ian Tyson, Don Williams, Keith Urban, Clint Black, Thompson Square, Lady Antebellum, Tim McGraw, Brett Kissel, Willie Nelson and Kacey Musgraves. "No matter where I go, or what happens in my career, I will never forget my roots and I will never stop supporting my community. I hope that with each single and album I release and each tour that I do, I can give back even more on a broader scale and support other causes. It's part of who I am, and that will never change."
For more information on having Trevor bring his show to your community, email info@trevortown.com